Branding and Creating your Site and Advertising

Finally, we get to the final part of the series on how to start your own company. In this chapter, we will show you how to create your branding, where and how to create your site, and finally how to promote it online.
The brand is your company's face and feeling. Here you will address all your messages and positioning through shape, color, mood, sound, and movement.  
A brand is an attitude
No entrepreneur creates a brand in one day, and with this we mean it is a developing process. The market you want to satisfy will determine the changes your brand is going to go through during the following years.
Furthermore, the feel and confidence of your brand will not depend on the fancy colors or its fantastic design, but in the effectiveness of your company to deliver what it promises.
To all of this, you need to create an image that is readable, memorable, and flexible. These characteristics can be bend following your company category and the audience you want to address.
Essential points
You need to consider avoiding too enthusiastic graphic designers and over the board creatives, a.k.a. Mad Men, who only want to show an eye-candy image without building familiarity and positioning first. (In the first stage of creating a brand you need communicators, not artists).
First, you need an isotype, a basic color palette, and a name — the three of these forms what is famously known as a 'logo'.
Here you can look and create different color palettes: Colour lovers, so you can take the first steps to start your company.
However, keep in mind you still need a designer who can create your logo and provide you with the proper elaboration following semiotic guidelines.
A logo must communicate what your brand wants to convey. If you are asking this as a service to professional designers, remember asking how this logo will transfer your brand identity, so they can give you an explanation on why you should choose a specific shape, hue, and copy (slogan if this is necessary). Once you have selected the logo, remember to register it as a trademark, so the ownership of your brand is legally formed.
The Brand Essence
The brand essence, also known 'brand mantra', is how your company is going to work and feel by your costumers. This depends entirely on how you want to approach your consumer base and determines which direction you should take when innovating and investing in your brand year after year.
On the other hand, the brand essence is, usually, a compound of three words that sum-up the purpose of your brand. This mantra must be stable, direct, aspirational, and long-lasting.
Now, such statement must sound for your like something out of a college professor's desk who has little to no contact with the commercial decisions made in a store, but have in mind that this brand essence is a decision-maker.
In other words, next time there is a conflict or a doubt in regards to what way to take, whether be on commercial or image matters, remember your 'brand essence' to make that decision.
Here some examples with popular brands essences in today's market: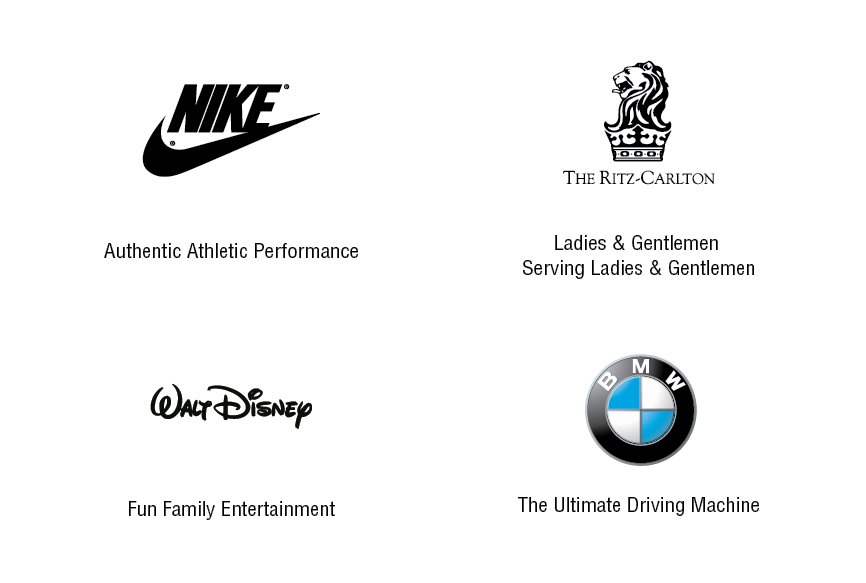 How to create your site
Nowadays, to start a company also means having a clear and engaging website to establish a connection with your customers. There is no specific set of steps to design a website, but your site must be easy to read and navigate.
Likewise, a good website includes clear and useful information with proper use of images and text, as well as an organized distribution; for SEO and SEM strategies. And of course, some strategically placed 'call to action' buttons.
The Internet gives you resources 
There are tools such as WordPress, Wig, and Hibu. However, if you are going to start a company, you need to use the expertise of a professional. In this way, your website will be free of errors and open to customization.
Also, consider that every website needs images and text that need to be featured to be SEO friendly, this means you have to have in mind which keywords are you going to use to include in your website. Remember, you can use tools such as Keyword Planner  in Google or Bing's keyword management tool.
The right use of these tools and the appropriate setting of words will lure more targeted audience to your site like a snowball, which translates to more clients.
Now you probably have noticed that many of these sites have a shopping cart. This section is called 'online payment gateway'. A gateway can be added to your site easily, so you don't have trouble creating one. Also, many payment gateways have a support team that helps you in case of doubts or any other inconvenience.
There are many alternatives, but between the most popular are:
Mobile Friendly
Your site must be mobile friendly to allow users and potential consumers to get in touch with your products and services. For this, you need to double-check your website and look for yourself if all the features are functional.
Additionally, remember that fewer clicks, the better so users will have immediate access to the products as soon as possible.
Some sites like Amazon.com have 'one-click' buying button to lure the consumer into buying the product immediately.
Furthermore, this will probably mean you will have to include a session and a customer database, but these are subjects we will take in another post.
Advertise your site:
We finally arrive at the part where you need to advertise your website. As we have shared with you earlier SEO and SEM and small but essential acronyms you will be dealing with during your online venue.
SEO means (Search Engine Optimization) while SEM means (Search Engine Marketing). Both are important so that your website be easily found in the sea of information that is the Internet.
SEO
Remember when we mentioned you need to keep special attention to the keywords in your website? That is what SEO is about: creating valuable and well-organized content, so search engines place you within the first 2 result pages of every search made by a user who is looking to satisfy his needs.
Now, this takes time and constant effort. Google always is updating its SEO parameters, but there are some wide-accepted ways to have a good website up and running so you can obtain a nice rank.
First, you need to have brief easy-to-read paragraphs that include valuable content that makes users staying more time on your site. You can reduce this bounce rate by adding videos and images about your products and company, so the users spend more time on your website.
Second, obtain an HTTPS certificate for your site, with this you are telling the search engines your website is encrypted and therefore safest which will help you to increase your rank within search engines.
Third, creating a blog and writing valuable content will also allow you to generate a constant influx of users thanks to the preference leverage generated by search engines.
There are many other ways to obtain more attention online such as including microdata and using Facebook's 'open graph' to create more engaging content, but for now having a well-design SEO friendly website will be kind enough to introduce you into this journey.
SEM
SEM is about the way and momentum in which you place ads online, and it differentiates from SEO because, yes, you have to pay for it. SEM includes a wide variety of activities. Each Search Engine has its own SEM management tool, but between the most popular we can mention Google AdWords and Bing Ads.
Here some SEM activities:
Pay Per Click or PPC: This means you will have to pay for each time a user clicks on your ads. Beneficial when you have a conversion goal, and you need to analyze your data regularly because the costs can rise quickly. In this case, as mentioned, you need to have a limit on spending


Cost per thousand Impressions or CPI: This type of plan charges you each time 1000 users see your ad. Have in mind that CPI is a good option when you are making brand awareness campaigns such us launches and promotions.


Retargeting: Or in other words, marketing that follows you. Retargeting is when a user has visited your site, and he suddenly begins to see advertising about your product or related products in other websites, as if they were following him/her. This type of SEM is useful if it is managed under specific parameters, but it can result annoying if it is unproperly set.


Remarketing: We use this activity when a user does not complete a buying process, such as an abandoned shopping cart, or when your company wants to promote cross-selling. You can see an example of this remarketing when you receive some e-mail with a copy such as: Thank you for buying product 'X'; we think you might love this other 'Z' product.'
Each of these SEM activities can be used independently or combined with physical mediums such as print or video material. Remember to add your website anywhere and everywhere, so there is a dynamic incoming of visits from different points.
We have reached the end of our 3,2,1 step on 'How to Start your own company.' Please remember to visit our Facebook and contact us if you need any of our services. I wish you the bests of lucks in you knew commercial entrepreneurship. Remember: stop doubting and do it.