Sears is dying
The 125-year-old American giant is losing a war that began 13 years ago. Bad retail desicions have been fraying the corporation's texture by liquidating its assets, chunk by chunk, to produce a so-called 'great change', something that hasn't yet been accomplished, and it seems that it's never going to happen because of the constant financial maneuvers and dreadful management that has gone through the company.
…And No, it wasn't Amazon nor Walmart neither any other major retailer in the industry which led Sears to its current situation; but one man, its CEO, Eddie Lampert.

Check those Moves
The maneuvers made by Eddi Lampert deserves excellent attention from academics and business owners due to the continuing threat of bad decisions including aggressive capital movements, real state indiscriminate selling, hundreds of millions on lending as well as dramatic budget cuts on stores.
All of this added to Lampert's eclectic and unpredictable attitude towards the retail industry over the past 13 years since he got the chair of CEO.
Moreover, according to close associates, his way of managing the company belongs more to a hedge fund tycoon than to a brand lover committed to its customers. This component is evident for the people in the world of business and capital management, but for the general public seems strange and utterly paradoxical.
Outside seems as grim as inside
Lampert's bad retail decisions
Today, Lampert (the main shareholder, lender, and owner of Sears) is 100% sure his actions will lead to a resurge of Sears once he has found the equilibrium and total control of the company's assets.
Experts have explained that Lampert is not thinking like a retail owner and he is missing the central point about retail businesses, which is making people buy your products, targeting the right consumer, reinforcing your brand and building and trustworthy consumer service.
On the other hand, all these moves made by the giant retailer serve as a lesson for the world of business, one simple but essential lesson: When problems arrive, you need to go back to the basics.
This means to check the offer and supply, hear your customers, understand your people, but primarily, do not hide from reality but be open to critique.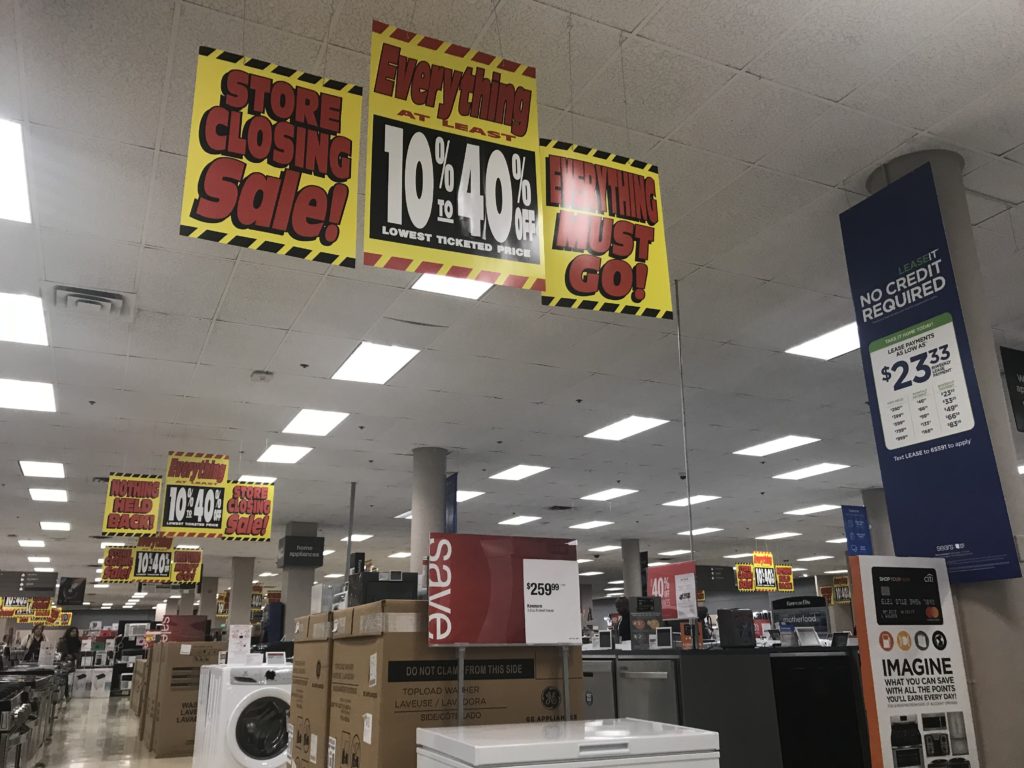 Lessons to learn
Moreover, if you are an entrepreneur, this is a valuable lesson for you. The story of a man who was praised as a young genius and whose first moves scared but also impress the corporative environment, like when he merged Sears and Kmart making the most unexpected move on Wall Street.
Everybody was wondering what was going into the young CEO's mind at the time.
Today, they have the same thought but with a different bitter taste. Take into consideration that merging companies could provide a considerable reduction in fix costs in the form of reducing overheads and unifying distribution channels; at least during the next immediate year.
However, if this was an aggressive move, it was also meaningless in the long run. Sears profitability kept dropping in later years because, as we mentioned earlier, lack of empathy with the company's basic needs and misdirection towards the team who made Sears what it was for more than 100 years.
Getting advantage of the discounts
Sears needs to wake-up, and Lampert too
Unfortunately, Lampert's persona was neither resourceful nor flexible, two qualities CEOs urge nowadays in this always challenging market.
The fall of Sears is almost the story of a man trapped in a vibrant and resourceful island that spends all his time doing nothing more than taking sunbaths without picking up the fruits and vegetables, changing the soil, and nurturing and watering the fields he now owns.
Then, when the winter season arrives, and he notices there are no resources but only an arid and unfertile land. Without no other alternative at hand, this man turns into his more basic and raw instincts and begins to devour himself as a last resort for survival.
Remember, even the most successful and influential company can fail. Listen to your people and your clients, keep a watchful eye of the supply and demand, and always be open to critique.